Basketball Fundraising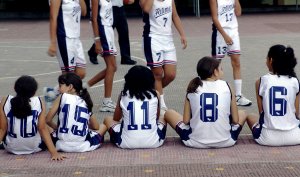 Basketball Fundraisers
Our basketball fund raising ideas are a slam dunk!
The Harlem Globetrotters have always been renowned for their fundraising events and their graciousness to children's charities. There are a ton of fundraisers aimed at basketball themes, but just because you're child is the star forward on his or her school b-ball team, doesn't mean you're limited to sports-themed fund raising ideas.
The fundraisers that will get the most attention are those that are unique and fun – especially when it comes to sports fans. Try to think of what a basketball fan would be interested in. They like excitement, humor, tests of skill and maybe even yummy treats.
Our basketball fundraisers will have you catching some serious net!
Celebrity Guest Speaker – Commission a local sports celebrity or a basketball hero to come to speak on behalf of your team fundraiser. The overhead costs of this type of invitation are low, and you can sell tickets for $10 to $25 a piece depending on the popularity of your speaker. Most local sports heroes are simply honored to be asked to speak. You may just have to arrange pick up from the air port and hotel accommodations if they are coming out of town – but many will incur these costs as part of their support to your team fundraiser. You will definitely want to ask your newspaper, television and local radio stations to start marketing your upcoming fundraising event early to get people out.
Slam Dunk for Charity – Ask your local school to host a slam dunk contest. Then ask your best b-ballers to volunteer to shoot hoops for the day. Get team members and parents to go door to door asking for pledges that will sponsor a slam dunk for charity. Sponsors can donate as little as 25-cents per slam dunk. Don't forget to pop into local offices and businesses to ask for bulk donations, and ask to leave a donation box at the front desk of any local shop with a check-out. There is virtually no overhead cost for this type of fundraiser. You may want to have drinks and snacks handy for your slam dunkers.
Basketball Cookie Sale – Nothing gets the body revved up for a good old game of basketball like cookies. Organize a basketball cookie fundraiser. You will need to call on the baking talents of your team members and their parents for this one, and you can ask local grocery stores to donate flour, sugar, icing, rolling pins, cookie sheets and other baking supplies. Bake cookies in the shape of basketballs and have the team sell them door to door or at the entrances of local businesses. Everyone likes cookies!
Basketball Bounce Off - Your basketball team can fund raise by hosting a basketball bouncing marathon. Contact the local newspaper, radio and television stations in the week leading up to the fundraiser to drum up interest and donations. Basketball team members will take pledges for every minute they can bounce a basketball consecutively. The basketball team then meets in a public park and bounces away. While members are bouncing, their team mates can walk around and explain the fundraising event you are hosting and ask for more donations. Make sure to ask local companies if they want to sponsor the event or make bulk donations. This event has little overhead cost. All you need are willing team members and basketballs for bouncing.
Student vs. Faculty Basketball Game - Host a fundraising basketball game – pitting students against teachers! The basketball team will play against a team made up of their teachers. The other students will be sure to come out and pay $5 to $10 to see their favorite teachers take to the court against the "professionals". And you never know, the old folks might have some tricks up their basketball jerseys.