Boy Scouts Fundraising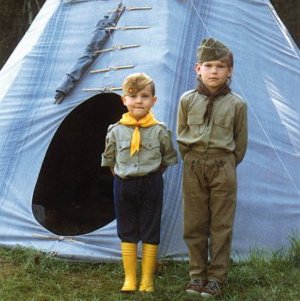 Boy Scouts Fundraiser
Raising funds for the troop
Unlike the Girl Scouts, the boy scouts don't go door to door selling cookies annually to raise funds for the troop. The boy scouts are free to raise funds anyway they deem appropriate. Some boy scout troops host charity barbecues outside of grocery stores. Individual troop members will often be seen outside of malls selling apples.
If you are a boy scout leader you will probably be charged with coming up with some inventive fundraising ideas to help raise money for your boys. The great thing about any fundraiser that goes towards raising money for children is that it will be successful! It's a proven fact that fundraisers that go towards kids groups or sporting events will typically do well because they appeal to people's willingness to help children, and let's face it you can't deny all the benefits that a group like the boy scouts offers young children.
As a boy scout leader or volunteer parent, your job will be not only to organize a successful fundraiser, it will be to motivate the members of your troop to get involved and be a part of the charity's success. After all, the funds raised will go towards sending troops to scout camp, for travel to scouting events, towards scouting badges and other fun activities. So if the fundraiser is a fun event, your troops will likely come out and work hard to make it a success.
Boy scout fundraising ideas with true merit!
Cardboard boat races – Similar to the boxcars you might have made in your own cub scouts troop when you were a lad, cardboard boats have been used as a fundraising idea to get the troops motivated, and the funds rolling in – by the boatload! If you are hosting the boat race with another troop (sometimes local area troops will band together to have one larger boat race), you will need to come up with a firm set of rules that everyone agrees to comply to. Sit down with the other fundraising organizers ahead of time and decide what materials should be allowed for the construction of the boats. For example typical cardboard boat race rules permit only cardboard, tape and paint – any excess material will disqualify a boat. The funds are raised for each boat because contestants pay an entry fee in order to race. The overhead costs of a cardboard boat race are very little to the organizers. You just need willing contestants with boats and entry fees, money for one prize, and volunteer judges who will inspect the boats pre-race to judge if they are suitable.
Mini golf tournament – This event is slightly more expensive to organize than a cardboard boat race because you will need to reserve a miniature golf course for your scout troop. However this type of fundraiser can bring in a lot more money because each participant that signs up will have sponsors who will pledge them for every hole that they play. Pledges can be as little as 10¢ to $1 per hole. The kids will then play as many holes as they can in 2 hours. Because the only overhead cost for this is the mini golf course reservation, a troop can end up making a lot of cash. Think of it this way, if each child gets 10 people to sponsor them at 10¢ per hole, each individual scout can bring in approximately $700.
Can and bottle drive – We've all heard of a can or bottle drive, and if not you've likely been approached by eager youngsters asking for your recyclables. A can or bottle drive is very cheap to operate, but it takes some serious pre-planning. We recommend if you're doing a can or bottle drive to make flyers to distribute in your local neighborhood asking residents to save their cans and bottles, as well as indicating the date you will be around to pick them up. You will also need to organize the scout troops. You will need dedicated drivers with larger cars or vans. Eager scouts to load the cans and bottles in the car, and some waiting on the other end to unload the recyclables. You will also need to set up a designated sorting location with sorters who will separate the cans from the bottles. Lastly you will need vehicles and drivers to transport your booty to the recycling outlet and to unload them from the vehicles.