Day Care Fundraising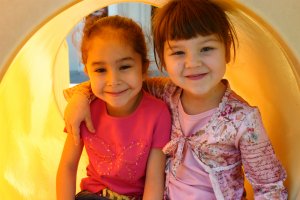 Day Care Fundraisers
Ideas that put the care into daycare fundraising
Daycare is expensive, but you're already well aware of that if you have a child in a day program. So it would be nice to get a little fundraising going in order to subsidize some of the costs. Daycares need a lot of extra craft materials, Play-dough, paint, construction paper, crayons, pencil crayons, glitter, felt, books, videos, snacks and juice to keep your youngster happy and entertained throughout the day.
Fundraisers for kids are always the most successful, but the problem with fundraisers for kids at daycare age is that they are too young to participate or help out with many of the charity events that elementary or high school kids could lend a hand at. For instance your toddler couldn't sell lollipops or squeegee car windows for charity. However there are still many things that young children and their parents can do together, so that they feel like a part of the charity event raising money for their daycare center:
Children's cookbook for fundraising – This one is fairly easy to put together and it rates high on the fun and cute scale! Ask the kids and parents at your daycare center to submit a favorite recipe. This should be the child's favorite recipe because there is a second part to the recipe submission that truly makes this a children's cook book. Ask the parents to sit down with their child and to craft a story as to why this is their favorite recipe – it can be a recollection of a funny or happy memory, it can be the story of a baking disaster, or it can simply be why, in the children's words why they love this dish or dessert. You'd be surprised at how hilarious the stories will be, and as mentioned this is what truly makes it the children's cookbook. For easy organization, ask that the recipes and stories be submitted via email. This will save you a whole lot of typing if you have to copy the stories into a word doc. If they are sent via email you can simply copy and paste them into one word document. Then take the document to a local printer like Staples or Kinko's and have them print out a soft cover version for you. You can have the cookbooks bound for a little more money, but staples are just as good.
Children's art display – This is also a very easy event to put together that will showcase your student's talents, and have them feeling like they are genuinely part of the fundraising for their daycare center. Host a children's art gallery showing. Ask the kids to submit a drawing or painting. Collect all the children's works and put them on display in the day care center for an after-school showing. Drum up local media attention by approaching the newspaper, television stations and local radio DJs, and ask them to announce the event. Sell tickets to the art event for $5 to $10. You can take this one step further by making the fundraiser an art display – silent auction, and let guests write down a bid beside any art piece that they would like to take home with them. The piece will be awarded to the highest bidder.
Face painting fundraiser – This is another simple fundraising idea that the kids can attend and feel part of. All you need for the success of this event is a few face painting volunteers and some face paints (powder-based paint sticks are less messy), brushes and hygienic cleaning supplies. The kids can be a part of this event simply by coming early and having their faces painted, as it's always a good way to drum up business if you have some live examples circulating the crowd. Ask for permission to set up a stand at a local park, amusement park or mall, and charge no more than $2 per painted face. Other than paint volunteers you'll need a cash box and someone to collect the money, as well as a few volunteers to clean brushes, supply fresh water and clean up.