Cheerleaders Fundraising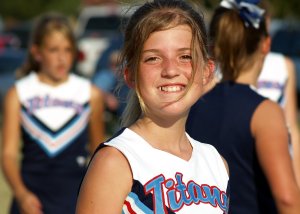 Cheerleader Fundraiser
Spread the spirit of giving to a good cause
It's amazing how cheerleaders can get the team spirit up before a football game – imagine how well they'd do if they put all of that team spirit and enthusiasm towards raising money for charity!
If you're the parent of a member of the cheerleading squad, you already know how passionate your daughter or son is for sharing their encouragement of others. It's the job of the cheerleading squad to drum up the enthusiasm of a large crowd, to motivate a sports team. So you already know that if the masters of cheer were sent to drum up dollars of a worthy charity they'd be back flipping and shaking their pom-poms all over town. Sure the cheerleading team definitely has the fund raising spirit – there's no doubt – but do they have a unique fund raising idea that will have donors doing the wave?
Cheerleading fundraising events that'll get everyone in the spirit!
Babysitting for charity – We know every parent loves their children and would do anything for them, but tell the truth, you are dying to get away from the sometimes – even if it's just for a quiet dinner or a night on the town? Well then wouldn't it be a fabulous idea if the cheerleading squad offered babysitting services with all of the money raised going to the team charity? Each cheerleader can either raise money separately for their babysitting services, or teachers can organize a day care type center in the school where parents can drop off their kids. There should always be teachers and other parents present in case of an emergency. It just gives parents extra piece of mind.
Suckers for fund raisers – This is a relatively inexpensive fundraiser, and no one can deny that lollipops would are cheap items that could be sold easily at school. The overhead of this type of fundraiser is only the lollipop ingredients. You can even buy the sugar, corn syrup, candy flavor, food coloring and etc., in bulk and make use of the school home economics class room for cooking. You might not realize just how easy suckers are to make. Well the cost for whipping up 300 lollipops is just $40 – depending how fancy you want your molds to be. If it only costs $40 to make 300 lollipops, and you chose to have the cheerleading team circulate the school and set up tables in the cafeteria and school entrances to sell them for $1 each – you'll make $300 – that's $260 in profits. Double this easy lollipop recipe for 600 suckers and $520 in fundraising collections:
This is the easiest lollipop recipe we could find, using the least amount of ingredients:
1 cup water
1 and 3/4 cups sugar
1 and 1/2 cups corn syrup
2 teaspoons of the candy flavor of your choice – or buy a few
1/4 teaspoon of liquid food coloring – or chose a few colors
Lollipop molds – you could get creative here with footballs, the school mascot or etc.
Sucker sticks
Plastic wrap and twist ties
Labels thanking donors and detailing that the funds raised will go toward the cheerleading team.
Making lollipops:
Spray sucker mold with non-stick cooking spray
Insert lollipop sticks
Bring sugar, corn syrup and water to a boil over medium heat in a saucepan, until the sugar is dissolved and blended well.
Mix in the food coloring and let boil.
Remove and add candy flavoring.
Pour sucker mixture into your molds
Let cool at room temperature.
When the lollipops are completely cool and dry, pop them out of the molds
Wrap them in plastic and sell away!
Pajama party fundraiser – The rules for this fundraiser need to be very explicit, so you don't have students showing up in inappropriate attire, but if everyone follows the rules this fundraiser is "like, so much fun" and super easy to set up! Send permission forms home with parents that introduces them to PJ Day for Charity. Each student will pay $2 for the privilege of wearing their pajamas to school for the day. This fundraiser is so easy to organize, you just need the cheerleading squad to collect the money and permission forms. Then just count on everyone showing up to school in their favorite pajamas and fuzzy slippers. You can even have a contest for best pajamas, tackiest pajamas and most comfortable pajamas – judged by members of the cheerleading team!