Fraternity Fundraising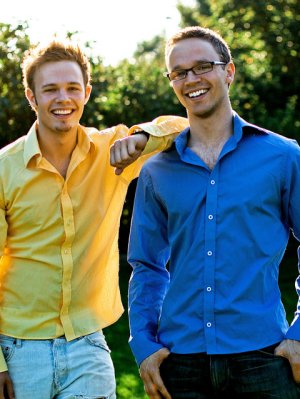 Fraternity Fundraisers
Keeping the Greek System Well-Funded
To be a part of a fraternity you will have to pay quite a hefty member's fee. However charity work is part of being in a fraternity, and most frats are responsible for hosting at least one major fundraiser per school year. This is why we present our customized fraternity fundraising ideas.
Our fraternity fundraiser ideas embody the spirit and fun that resonates with every brotherhood:
Womanless fundraising beauty contest – Yes, you've already seen this fundraising idea in our football fundraising section and on our fire department fundraising page, but we think it's an equally great idea for a Fraternity fundraising event. Being part of a fraternity is all about bonding and having fun with your friends, so what better way to have a few laughs then to host a womanless beauty contest, and when we say that we mean there will be no sign of women in this fundraising event. You will need about a dozen or more of your frat brothers to volunteer for this event, but it's all in the name of a good cause, and if none of the senior Greeks want to do it – just order some pledges to take part. The great thing about the womanless beauty contest is that it's all in the name of good fun. Yes, it will have your frat brothers doing themselves up in makeup, wigs, stockings, high heels and evening gowns, but the idea of your school being able to see your frat brothers dressed up in drag will certainly bring out a crowd who are willing to pay to see it. Because this is a college-aged event, we recommend you make it as humorous as possible. Yes the talent contest should be a riot, but a swimsuit contest – even better! This event can be advertised to the entire student body. Charge a reasonable entrance fee for your fundraiser - $10 isn't asking too much. Make sure to invite a few highly esteemed professors to judge the event. Hopefully your mathematics professor has a good sense of humor. This event really has no hefty overhead costs. You can host the event in the college's auditorium, bandstand or social lounge area, and the contestants will all be participating as volunteers. You may have to reimburse their shopping trip to a used clothing store, and you should provide some energetic and humorous music for the evening – I'm Too Sexy anyone?
Lingerie show fundraiser – You can take the womanless beauty contest one step further by hosting a lingerie show. Now we are all adults in college and university, so you may want to make this one a co-ed event and ask a fellow sorority to model for the show. You can find a lingerie company that will offer to outfit the models if they are permitted to advertise and sell their clothing after the show. Most budding clothing designers will just jump at the opportunity to get their clothing noticed. You can also request clothing from a lingerie party company like Fantasia. Many of these lingerie party companies will agree to donate a certain portion of the evening's sales to your charity if you allow them to sell at your fundraising event. You can also charge a $5 to $10 admission fee to get into the show. Since you're not buying the lingerie and the models are volunteering, you may only have to pay to book space and for a DJ. However, your college will likely let you book the school's theater for free, and you can have one of your fellow frat brothers DJ the event with cued up mixed CDs.
Slave-for-day auction – In many colleges the fraternity brothers are seen as the kings of the campus. So what better way to reach out to your fellow students, and raise some money for a good cause, then by having the frat brothers auction themselves off? This fundraising event needs little more than the rental of a large auditorium and some volunteer fraternity brothers who are willing to do another's bidding in the good name of fundraising (within the law of course). The event should be a lively one, so set the atmosphere with energetic music. A fellow frat brother can easily DJ the event using the college's sound system and mixed CDs. Each frat brother should come out to a song of their choice and ham it up for the audience while the bidding is going on. The highest bidder gets an fraternity brother to do whatever they want for an entire school day (within reason of course) – cook for them, do household chores, homework, wash their car, walk their dog or maybe even run errands. After the frat brother is auctioned off he will met with the person who won him to arrange for their day of service.