Gymnastics Fundraising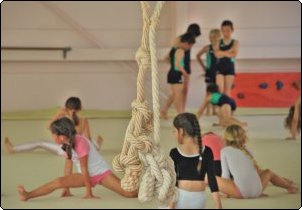 Gymnastic Fundraiser
Fundraising that will have the entire team jumping for joy!
Gymnastic fundraisers should be all about boundless energy, determination, much like cheerleading. It will take loads of support – just like the team who puts them together. Capturing all of your team's energy and discipline in a fund raiser can be difficult to do, as team captains and parents of gymnasts you will want to showcase the talents of your athletes in your fundraiser to show all supporters what your team is capable of. However you also want the team to have fun with the fundraiser.
So, what kind of fundraising ideas will have the gymnastic team jumping from excitement? We think it will be something that let's the gymnasts show their skills – and one that pulls in a profit faster than a back flip.
Our top gymnastic fundraising ideas
Fundraising calendar - One unique approach that will surely showcase the talents of your athletes is a gymnastic fund raising calendar. Don't think firefighter calendar. Depending on the size of your team, this could feature a picture of each gymnast per month, or if you have a larger gymnastic team it could feature group shots of the athletes in action on the gymnastic equipment. It should also feature your competition schedule, your team logo and a catchy slogan that captures the spirit of what being on the gymnastic team is all about. The overhead for a wall calendar is not as pricy as you think, especially when you have the entire student body at your disposal. Surely there are student who have photography talents, and who would volunteer their lens for the chance to shot the images to put in their portfolio? Next look to the art department or graphic design program, and ask a student to design a calendar to reflect your team colors and spirit. Next take advantage of your school's photocopiers – many times school boards have the best equipment available for teacher use. If not, visit a local copy shop, such as Kinko's, they often offer discounts for school projects and may even cut you a deal because this calendar is for charity. When the calendar is ready to showcase, have the gymnastic teams set up a table at competitions where they can sell and autograph calendars for their teammates, fans, fellow students and proud parents and grandparents.
Gymnastic fundraising video – This gymnastic fund raising idea is very similar to the wall calendar that we mentioned above. It's another great way to showcase the talents of your athletes, but the great thing about the video as opposed to the static images on a wall calendar is that it will showcase them live and in action! Better yet, this fundraiser is cheap to put together if you utilize the talents of your student body. Take some time to visit the media or video departments and seek out a student who is an amateur film maker. Ask them to help you put together an energetic gymnastic team video, set to energetic music. The video should be made up of quick shots, showcasing team members at their best. Give it a feel of an MTV video – because that will be what sells. You can even film personalized messages from all of the athletes on the video. The only expense for this gymnastic video will be the CDs you will burn the video onto, and these are roughly $10 for a package of 25 to 50 CDs. To sell your video, have the gymnasts set up a booth at competitions where they can sell the CDs for approximately $5 a pop, and so that they can autograph CDs for their classmates, rivals, friends, fans and adoring family members. The CDs will make excellent keepsakes for proud parents, grandparents and aunts and uncles who can't make it to competitions.
Kid gymnast for a day – This fundraiser is a good way to showcase your talents to the community, and to show the benefits of your sport to young, budding gymnasts. Call the local elementary schools and community centers in your city, and ask them if they would donate to the gymnastic team if you were to visit their school and put on a gymnastic demonstration for the kids. Put together a routine with your gymnasts showcasing some of your most difficult and amazing moves. You will open your presentation to the children with this. Choose a routine that doesn't require too much heavy equipment – just easy-to-transport mats. Then put together a demonstration for the kids of beginner gymnast moves that you can teach to the children. You will need to make up permission forms ahead of time for the teachers to send home with their students ahead of time. Any child participating in you presentation will require a signed permission form. Remember, these are children who have likely never experienced gymnastics before so keep it simple so no one gets hurt.